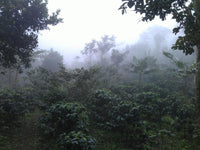 Where does our coffee come from?
Located in the mountains of Sierra in Marcala, La Paz, Honduras, this beautiful coffee land is showered with love and grows in a place of fertile land and majestic beauty.
Marcala is in the southwest region of Honduras, near my hometown of Comayagua, where the denomination of foreign coffee in Central America was first recognized in 2005 - in other words, HIQUEST QUALITY ONLY!
Origin of Denomination allows for characteristics of this coffee to be guaranteed & exclusive to this geographic region: Cafe de Marcala! 
Don't miss out on the most unique coffee in the world!
I'm ready for life changing coffee!
Supporting Honduran Coffee
Why Shop Mijos?
Elevate Small Farmers of Honduras
Support Fair Trade Coffee
Drink To Your Health
Discover Uniqueness & Variety
It's Certified-Organic & Delicious!
Your purchases directly provide funding for Education, Operations, Additional Income, Improve Yields, Community Development & Infrastructure.
Please check out the link below to find out more about where your Fair Trade Coffee is coming from and how your purchases positively affect the Honduran small farming community!